INFLUENCE OF A HYPOCALORIC DIET ON THE PARAMETERS OF NONSPECIFIC HUMORAL IMMUNITY IN RATS 
Abstract
 In the study of the role of the imbalance of regulatory cytokines in the blood in the implementation of immune responses in rats that were on a hypocaloric diet, compared with the control, it was established: a predominant increase in the content of IL-1
References
Datsyuk O.І. Discitokіnemіya yak prediktor efektyvnosty startovoyi іnfuzіynoyi terapіyi v kompleksі peredoperatsіynoyi pіdgotovky hvoryh na gostryi pankreatit [Disсitokinemia as a predictor of efficiency of starting infusional therapy in a complex of preoperative preparation of patients with acute pancreatitis], Klіnіchna hіrurgіya, 2016, No. 5, pp. 41−44.
Klinicheskaya immunologiya i alergologiya s vozrastnymi osobennostyami: uchebnoye posobiye [Clinical immunology and allergology with age peculiarities: manual], 2-e izd., K., VSI «Medicina», 2012, 520 p.
Interleukin-12 as a predictor of outcome in patients with severe acute pancreatitis / P. Gregorić, K. Doklestić, S. Stanković [et al.] // Hepatogastroenterology. – 2014. – Vol. 61, N 129. – P. 208−211.
T-cell populations in chronic pancreatitis / S. Mansour, C. D. Johnson, J. Sanderson [et al.] // Pancreatology. – 2015. – Vol. 15, N 4. – P. 311−312. − DOI: 10.1016/j.pan.2015.04.009.
T-helper cell-mediated islet inflammation contributes to β-cell dysfunction in chronic pancreatitis / R. Talukdar, M. Sasikala, P. Pavan Kumar [et al.]// Pancreas. 2016. – Vol. 45, N 3. – P. 434−442. − DOI: 10.1097/MPA.0000000000000479.
Lee, B., Adamska, J. Z., Namkoong, H., Bellin, M. D., Wilhelm, J., Szot, G. L., ... & Habtezion, A. (2020). Distinct immune characteristics distinguish hereditary and idiopathic chronic pancreatitis. The Journal of clinical investigation,2020; 130(5):2705-2711.http//doi.org/10.1172/JCI134066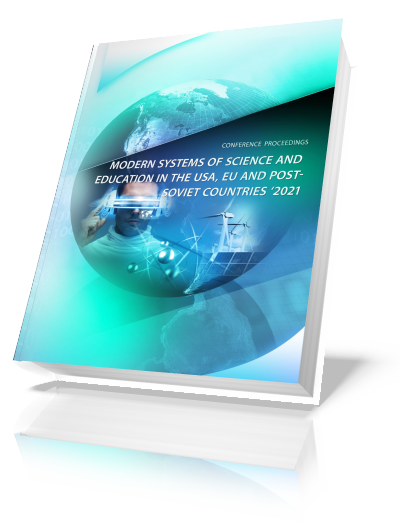 How to Cite
Pavlova, O., & Sirenko, V. (2022). INFLUENCE OF A HYPOCALORIC DIET ON THE PARAMETERS OF NONSPECIFIC HUMORAL IMMUNITY IN RATS . Sworld-Us Conference Proceedings, 1(usc09-01), 32–34. https://doi.org/10.30888/2709-2267.2022-09-01-019
License
Copyright (c) 2022 Authors
This work is licensed under a Creative Commons Attribution 4.0 International License.